Adding value to a presentation folder is as easy as adding foil stamped artwork or text.  Foil stamping your company's logo, street address or website address on the cover of the folder presents your product or service in a professional light. It's a great way to set your business apart from your competitors.  Foil stamping is also cost-effective, as it's typically less expensive than printing.  It's also more durable and will hold up better if the folder will be handled frequently.
Foils are available in metallic and non-metallic colors.  The color you choose usually depends on the image you want to project.  For example, accountants and attorneys typically choose metallic foils on darker colored paper because it's an elegant and classic look.  Small businesses looking to project a more playful image typically choose non-metallic foils on lighter colored papers.  Check out the available foils and paper colors here.
For help with ideas or preparing artwork for a foil stamped Conformer presentation folder, contact us today at support@conformer.com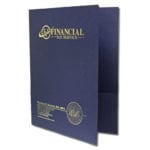 .