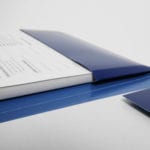 Whether you're looking for a presentation folder to deliver a client's tax returns or to introduce a new product line at a trade show, you have a lot of options. If you're not sure how to select the right folder, the guidelines below will help you find the best product for your needs.
Open pocket folder: Open pockets are sealed at the outside edges only and are a good choice when the materials in the folder are bound or are a uniform weight and size. For example, perfect-bound documents easily fit, and stay, in a folder with open pockets.
Closed right pocket folder: A closed pocket is sealed at both the outside edge of the folder and where the pocket meets the spine of the folder. This style provides better document retention. Materials of varying weight and sizes like presentations, brochures and samples sometimes struggle to stay organized in a folder and, the extra document retention pocket will keep them centered and upright.
Reinforced edge folder: Choose the folder with reinforced edges if your documents are printed on heavy paper stock or paperboard. It's also a good choice when the folder will receive more than normal handling, like at a trade show, or if you simply like the feeling of extra heft on the edges when holding the folder open.
Duo-tang folder: If you are sending out important documentation inside a folder — such as tax returns or an insurance policy — to be stored safely for an indefinite period, then consider a folder with duo-tang prongs.  These metal clasps feed through hold-punched documents and ensure that documentation stays put.
Stay tuned for more articles on choosing the best pocket folder that address pocket height, paper types, and other important features.